Citroen CX 25 TRI Break Turbo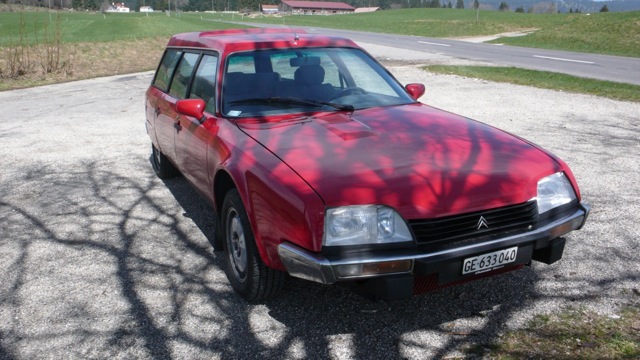 Year : 1987
Engine : 4 cylinder in line, 2,5 Liter, turbo injection
Performance : 168 hp
Transmission : Manual 5 gears
Top speed : 220 km/h
Acceleration 0-100km/h : 8.0 sec
Number of places : 7/8
Seatbelts : yes
Car Category : ★★★
Car Rent ( CHF / Day) :
Weekdays :
Membership Rate CHF 300 / Day
Non Membership Rate CHF 500 / Day
Saturday / Sunday / Holidays :
Membership Rate CHF 375 / Day
Non Membership Rate CHF 625 / Day
Weekend (Sa & Su) :
Membership Rate CHF 600
Non Membership Rate CHF 1000
Citroen CX 25 TRI Break Turbo

The Citroen CX took on the heritage from the mythical DS. Not easy, but it did an extremely good job on it. The car has further improved road holding and steering, is less noisy and has a more solid feeling. But the strongest point of the car is the fluid and well-detailed body design by Robert Opron. Also the interior design is so much modern seventies with the dashboard in the shape of a rugby ball as the highlight. Driving this car is like flying an UFO to far away galaxies. The car we have is a very special one, as it has the break body with a petrol turbo engine, a combination that was only fitted on a couple of cars from Heuliez at the time. The interior can be switched between Break with 5 seats and Familiale with 7/8 seats. And with the hydraulic suspension, you do not have to worry about the charge, the car always keeps constant height.